This blog is a fusion of a couple different things.
Our 2006 Trip Back to China
In early 2006, my Wife and I decided to take our pre-school age daughters for a visit of a few months to China–which is where my Wife is from, where we met, and where I've spent nearly three years altogether since 1993. I started this blog in January 2006 as a place to share trip highlights, which constitute most of the January – April 2006 entries.
And Other Stuff
Several articles from The Chinese Outpost Newsletter made their way over here for a time, but just a few still remain here. Which brings us to….
To my partial chagrin, the most popular post of all time, in terms of reader comments and search traffic, is the second of two I made on the "Chinabounder: Sex in Shanghai" controversy (Post 1, Post 2).
Back to the 2006 Trip
In September 2006, I began finishing up the posts and photos and videos from my family's trip back to China earlier in the year.
Say Goodnight, Gracie…
But something had changed along the way, which we'll generalize as "life getting way too busy for hobby blogging." I therefore decided to retire as both a China Blogger and Newsletter Publisher after finishing up these trip entries.
I was going to space the remaining entries out until–an arbitrary milestone–January 1st, 2007, but on November 8th, 2006, I read that the purveyors of the wild and wildly popular Talk Talk China site had decided to pull the plug on their venture close to the height of their success.
For whatever reason, that inspired me to move up the terminal date for this blog as well, cramming my remaining and already drafted posts into the following two weeks. You can read more about that in the post "The End of THIS China Blog Draweth Nigh, Too…".
The last post in this blog was on November 25th, 2006.
And When You Smile for the Camera
Research shows that people like pictures, so to wrap, here ya go….
Me with my wife and our one-week old daughter in April, 2001: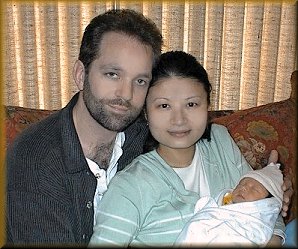 This one wasn't working out quite as planned with Santa (one daughter wouldn't look at the camera, the other was crying), so my Wife and I jumped in the frame to capture the true Spirit of Christmas, 2004: